The Mystery of the Purple Pool
Written by Gertrude Chandler Warner
Illustrated by Charles Tang
Reviewed by Tatiana N. (age 9)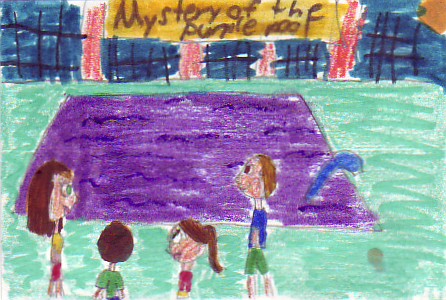 Have you ever seen a purple pool? Four kids named Henry, Jessie, Violet, and Benny have. When they go to the Plymouth Hotel in New York City with their grandfather, they discover that the hotel pool is purple! Other strange things are happening, too. Will the Boxcar Children be able to solve The Mystery of the Purple Pool?
I really enjoyed this book because the author introduces the characters in a suspicious manner. By the time I was on chapter six, I had about eight suspects! My favorite part was in chapter five when all the salt and sugar got mixed up. It was so funny to imagine french fries tasting like taffy and pancakes like burnt hamburgers!
I recommend this book to kids ages 9 to 12 who love mysteries. It was so interesting I never wanted to stop reading. I certainly loved this book, and so will you!