The Mystery of the Purple Pool
Written by Gertrude Chandler Warner
Illustrated by Charles Tang
Reviewed by Emily M. (age 9)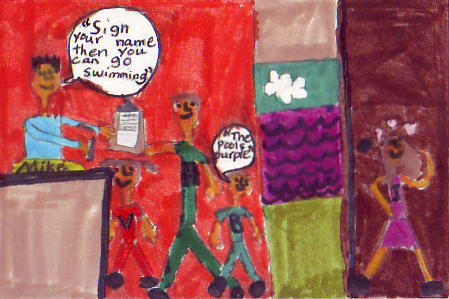 Have you ever been to a hotel with a pool? If you did, the pool probably wasn't purple. Well, that's what the Alden children saw. Henry, Jessie, Violet and Benny went to New York with their grandfather, Mr. Alden. He brought the kids to the Plymouth Hotel. The children went to go swimming on the roof, but when they got there they found something they couldn't believe. Someone dyed the pool purple!
I liked this book because Benny was so funny. For example, Benny was always hungry. One time Benny ate his pancakes with salt because there was a salt and sugar mix-up, but he didn't care. I also like how the characters got introduced in a sneaky way. Everyone seems suspicious. My favorite part is when Jessie got a crush on the pool manager, Mike. She had acted so shy around him and that wasn't like her at all.
This book is a part of a series called The Boxcar Children. In every book the children make friends, work together, and there is always a big mystery. I recommend this book to kids in third to fifth grade. I never wanted to put this book down and I think you will feel the same way.