Detective Camp
Written by Ron Roy
Illustrated by John Steven Gurney
Reviewed by Kevin M. (age 8)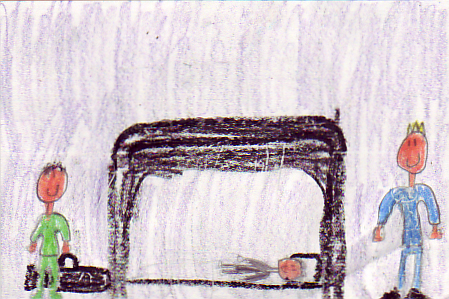 Dink, Josh and Ruth Rose are at detective camp when they stumble onto a case. Mademoiselle Musee is at the camp to restore old paintings when she says that her ring has been stolen. When the friends discover that some paintings are missing from the the safe, there appears to be two mysteries to solve. Will Dink, Josh and Ruth Rose be able to find the stolen ring? Will they solve the mysterious disappearance of the paintings? Read Detective Camp to find out.
I think this is a good book because the author, Ron Roy, uses juicy words like "shove" instead of "push". This made the story more interesting to read. My favorite part was when Dink, Josh, and Ruth Rose found the paintings and solved the mystery. I was surprised by the outcome. This story reminds me of something that happened to me. Once when I was at camp my friend lost his hat and I helped him find it.
I recommend this book to boys or girls who like mysteries. I think it would be just right for third and fourth graders. I think it would be too easy for fifth graders. Ron Roy's descriptions were so good I never wanted to put this book down.