Detective Camp
Written by Ron Roy
Illustrated by John Steven Gurney
Reviewed by Ryan M. (age 8)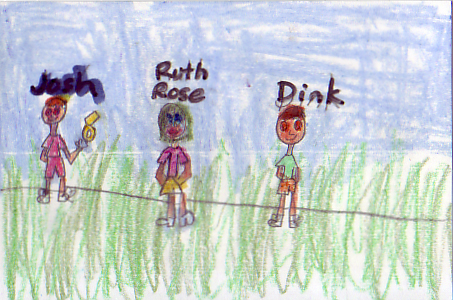 Who stole the painting? Detective Camp is a story about Dink, Josh, Ruth Rose and when they go to detective camp. While they are learning to be better detectives a real crime happens. Someone steals a painting from the the dining room wall at the the camp. Then a precious ring goes missing, too. Did the same person do it? Will the three friends solve the mystery?
I like how Ron Roy creates suspense. For example, when Dink, Josh, and Ruth Rose sneak into the dining room to look for clues, the three kids have to hide behind the table when they hear Mademoiselle Musee coming. I kept wondering, will she catch them? Another suspenseful part is when Angie is telling the campers a ghost story around the campfire. When she gets to the end the kids are so scared they jump up and trip over each other. I felt like I was right there with them.
I recommend this book for 3rd, 4th, and 5th graders. It has juicy words and it really makes you guess as you read it. If you want to know who stole the painting read this book.