The Growling Bear Mystery
Written by Gertrude Chandler Warner
Illustrated by Charles Tang
Reviewed by Sean G. (age 8)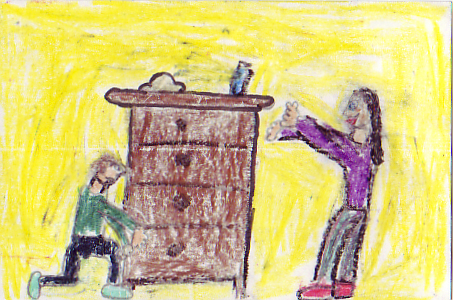 Benny, Jessie, Henry, and Violet Alden go hiking with their grandpa to find a lost cabin. Everyone says there is gold there, but no one ever found the lost cabin or the gold. Just then the trails are closed because of bear activity and their map disappears. Do the Aldens find the lost cabin and the gold? Read the book, The Growling Bear Mystery, to find out!
In this book I think Gertrude Chandler Warner introduces characters suspisciously, like when Sam Jackson gets introduced he was driving fast and acting angry. It made me think he was a suspect. My favorite part is when the Aldens lost their map and were looking for it. I like it because it made me wonder who took it and why. Another part I like in the book is when the author says, "'I'm one of the winter keepers at the Old Faithful Inn," Oz answered. Violet's eyes opened wide, "You keep winter?'" It made me laugh so hard.
I would recommend The Growling Bear Mystery to third and fourth graders who like hiking or kids who like solving mysteries. Even though you might figure out who did it before you get to the end, this is still a fun book to read.