The Quicksand Question
Written by Ron Roy
Illustrated by John Steven Gurney
Reviewed by Carly N. (age 8)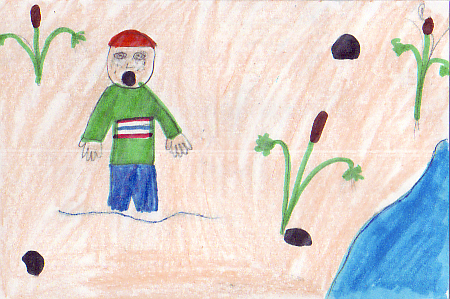 All of Green Lawn has been saving up for a special duck bridge, when they find out the money to build it has been stolen! Who could have stolen the money? How could they have stolen it when the vault was in the fire department and it weighed tons? When our three detectives try to find out who the thief is, they get stuck in quicksand! Can they get out before it's too late and can Dink, Josh and Ruth Rose solve the mystery?
I liked this book because every time I read a chapter I found more and more clues. That made me not want to put the book down. I also liked how Ron Roy made the characters so determined. They never gave up! For example, when Josh wanted to stop to get a drink Ruth Rose said, "No, we have to focus on that money!" That made me happy because it showed that she really cared about the case and she wouldn't just give up. My favorite part of the story was the ending. I thought it was unique how Dink, Josh and Ruth Rose used the clues to solve the mystery.
I would recommmend this book to boys and girls who like mysteries. This book would be good for strong second through fourth grade readers. The Quicksand Question is an A to Z Mystery series book. If you enjoy this book, then you will probably like the Capital Mystery series books written by Ron Roy, too.